Understanding Wave Phenomena
Winter semester lectures
We have updated the list of lectures related to the topics of the CRC. Take a look at our offer.
List of lectures
Women in PDEs
Next week we will host this year's edition of Women in PDEs in Karlsruhe. We have more than 80 registrants from at least 14 nations. We are looking forward to this upcoming event.
To the Women in PDEs webpage
Continuation proposal
The board of the CRC had this week the third proposal writing days. They worked hard and are really satisfied with the outcome and their harmonious cooperation. On Friday, both speakers took another challenge running on top of the Turmberg located in Durlach.
Current guest Matthias Eller
This week Matthias Eller (Georgetown Univ.) is currently our guest here in Karlsruhe. He has ongoing work with Roland Schnaubelt and published lately a preprint together with Andreas Rieder.
To his webpage
Workshop Time Integration for Viscoacoustic Wave Equations
This week we have María López-Fernández (Univ. of Málaga) as a guest. Together with Marlis' group she has this workshop and she gave an inspiring talk in the CRC Seminar.
To her Google Scholar profile
Inventiones paper: Cwikel's bound reloaded
Congratulations to Dirk Hundertmark, Peer Kunstmann, Tobias Ried, and Semjon Vugalter for publishing their paper Cwikel's bound reloaded in Inventiones mathematicae.
To this article
Conference of Women in Physics
Since we have some valuable colleagues from physics who work with us in this CRC, we would like to draw your attention to the German Conference of Women in Physics, which will take place at KIT in November this year.
To the conference's website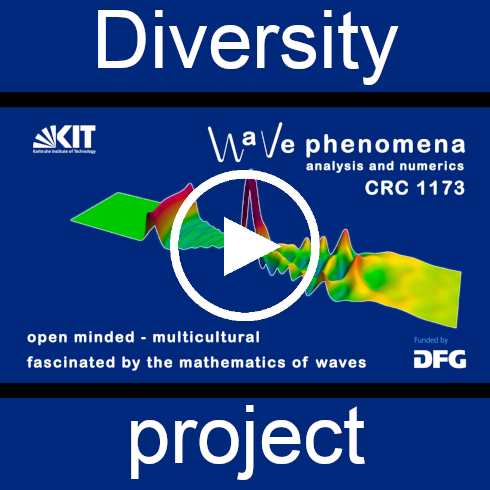 Diversity film project
Finally, today we have published the video of our diversity project. You can share it now with friends and family. Have fun watching.
To the video (via Youtube)