Understanding Wave Phenomena
Our Math squads
Two groups of us (see the image above) attended the Scica∂e and the Waves conferences in Reykjavík, Iceland and in Paris, France respectively.
Conferences
Next week there will be conferences of great interest to our scientific field; the Scica∂e and the Waves conference. Both were postponed and they will be held upcoming week, finally. You can meet some of us at these meetings.
Token of appreciation
The former iRTG spokesperson Julian Baumstark has received a little gift as a token of appreciation for his commitment in the last four years. It is a Pilsner glass with his engraved name and additionally a barrel of Pilsener.
New iRTG doctoral spokesperson
Julia Henninger has been elected by the group of doctoral researchers of the iRTG as their new spokesperson. We cordially gratulate her and wish her a successful time to this honorable activity.
Conference of Women in Physics
Since we have some valuable colleagues from physics who work with us in this CRC, we would like to draw your attention to the German Conference of Women in Physics, which will take place at KIT in November this year.
To the conference's website
Women in PDEs
We have been wanting to host a new edition of Women in PDEs for a while. The time has come. It is scheduled to take place in October this year. Registration is open.
To the Women in PDEs webpage
EAIP Award 2020-2022
The Eurasian Association on Inverse Problems (EAIP) has held their EAIP Awards Ceremony. One of the awardees is our colleague Andreas Kirsch. We cordially congratulate him to this achievement.
To the announcement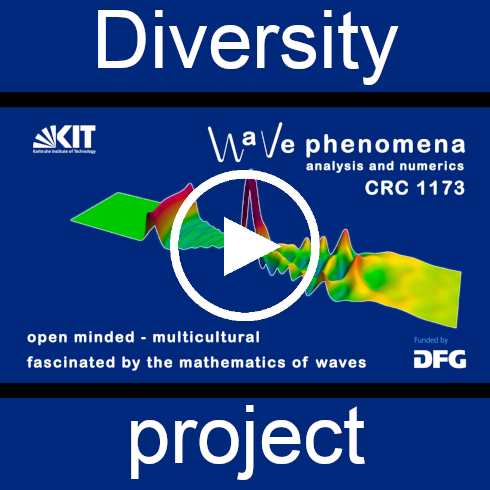 Diversity film project
Finally, today we have published the video of our diversity project. You can share it now with friends and family. Have fun watching.
To the video (via Youtube)