Understanding Wave Phenomena
Pi Day and the review
We wish a happy Pi Day! We have no much time to celebrate. On the next two days there will be the review of our CRC. We are good to go!
SIAM 2023 Amsterdam
This week are some of us (Marlis, Daniel, Stefan, Niklas, and Lukas) in Amsterdam at the SIAM 2023 Conference on Computational Science and Engineering. Meet them there.
Webpage of SIAM 2023
PDE Seminar: Sebastian Herr
The first talk of 2023 within the Kalrsruhe PDE Seminar will be held by Sebastian Herr. His talk is about Global wellposedness of the Zakharov System below the ground state.
To his personal webpage
Bastian Hilder
This week's guest ist Bastian Hilder from the Lund University, Sweden. He will give a talk in our CRC seminar about Invading fronts in pattern-forming systems admitting a conservation law structure.
To his webpage
Nick Trefethen
We are happy to welcome Nick Trefethen on Thursday in Karlsruhe. He will give two presentations; one will be an introduction to Chebfun and the other one about Applications of AAA Rational Approximation.
To his personal webpage
Submission of the proposal
On Tuesday, January 17th, we submitted the continuation proposal in person to the DFG in Bonn. We are relieved to have achieved this important interim goal.
Inventiones paper: Cwikel's bound reloaded
Congratulations to Dirk Hundertmark, Peer Kunstmann, Tobias Ried, and Semjon Vugalter for publishing their paper Cwikel's bound reloaded in Inventiones mathematicae.
To this article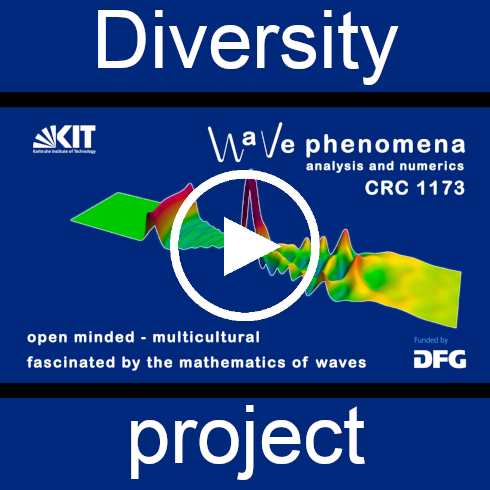 Diversity film project
Finally, today we have published the video of our diversity project. You can share it now with friends and family. Have fun watching.
To the video (via Youtube)