Understanding Wave Phenomena
Retreat of the spokespersons
Both spokespersons are going on a retreat on upcoming Friday. You're simply more productive if you can concentrate on the things that are currently essential, away from the day-to-day business.
26th German Conference of Women in Physics
Starting on Thursday there will be the 26th German Conference of Women in Physics at KIT. You can participate at least to some parts of the program without being registered. Come and join!
Female pupils program
KIT Associate Fellows
Björn de Rijk and Christian Zillinger have reached the status "KIT Associate Fellows". This implies that they can be examiners in the doctoral procedure of their own doctoral candidates. Congratulations, again!
Details of KIT Associate Fellows
Tag der RMU
Marlis was invited to give the keynote speech at the Tag der Rhein-Main-Universitäten. This year, the focus was in particular on scientists in the early stages of their careers and the so-called academic mid-level faculty.
Further information
Workshop Time Integration of PDEs
This year's edition of the workshop Time Integration of PDEs from 19th to 21st of October is located in Rastatt (St. Bernhard). Over 20 affiliates including students of the CRC will present their current research/work.
To the event's webpage
Women in PDEs
Next week we will host this year's edition of Women in PDEs in Karlsruhe. We have more than 80 registrants from at least 14 nations. We are looking forward to this upcoming event.
To the Women in PDEs webpage
Inventiones paper: Cwikel's bound reloaded
Congratulations to Dirk Hundertmark, Peer Kunstmann, Tobias Ried, and Semjon Vugalter for publishing their paper Cwikel's bound reloaded in Inventiones mathematicae.
To this article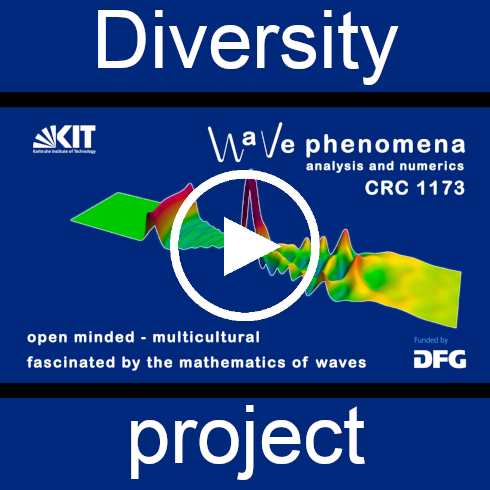 Diversity film project
Finally, today we have published the video of our diversity project. You can share it now with friends and family. Have fun watching.
To the video (via Youtube)